Israel is famous for its Mediterranean diet. In every Israeli meal you can find flavorful fresh vegetables, rich olive oil with amazing aroma, as well as a variety of different types of cheese, eggs, chicken or fish.
Usually, you can find fresh ingredients in a market (also called "shuk" in Arabic and Hebrew).
Luckily for you, there are many markets in Israel – but if you fancy to find the best experience as well as the freshest of ingredients, you've come to the right place – for this is The Israel Blog's Top 5 Markets in Israel!
1. Mahane Yehuda Market (Shuk Mahane Yehuda)
This is perhaps the most iconic market in Israel, located in the center of Jerusalem.
Dating back to the late 1800s, Mahane Yehuda Market started when Arab farmers displayed their products in an empty lot near the neighborhood of Mahane Yehuda in Jerusalem. Its central location attracted both the Arab and Jewish population living in the area, laying the foundations for its establishment and expansion.
The market is extremely popular with politicians, especially before elections – every self-respecting politician will have at least one photo op with the local stand owners.
The traditional stands sell fruit, vegetables, meat, dairy, clothes and houseware.
As Jerusalem mixes the old with the new, so does its market – as it had an extreme makeover in the past years.
Today you can find guided tours, cooking workshops as well as many hip restaurants, dessert joints and crowded bars alongside the traditional stands, making this market suitable for every age and interest.
Machane Yehuda market is open every weekday except during the Sabbath and on holidays.
Sunday through Thursday, the market is open from 8:00 to 19:00 (though it is recommended to arrive between 9:30 to 17:00)
On Fridays, the market is open from 8:00 to approximately 15:00.
On Saturday evening, the market is closed but most of its cafes and restaurants are open.
2. Old City Market of Jerusalem
If you always wanted to go back in time to Arabian Nights (or visit Agrabah from Aladdin), this is the place for you.
In the narrow alleyways of the Old City of Jerusalem, lies this marvelous market. Stretching through the Christian and Muslim Quarters of the Old City, this place is packed with stores selling souvenirs, clothes, spices, jewelry, scarves and much more.
As the Old City is holy to Christianity, Islam and Judaism alike, you can find many religious artifacts and jewelry for every religion, including necklaces, earrings and bracelets.
If you get hungry during your stroll here, don't miss out on the many authentic restaurants serving kebabs, hummus and even freshly squeezed juice.
And best of all, this market is right next to some of the holiest sites in the world, such as the Church of Holy Sepulchre, Via Dolorosa, the Western Wall, Al-Aqsa Mosque and the Temple Mount. We can't imagine a better combination than holiness with a side delicious goodness!
The Old City Market of Jerusalem is open every day, usually between 08:30 – 19:00 (some of the stores might have different opening hours and may be closed on Friday during prayer times)
3. The Carmel Market (Shuk HaCarmel)
This is the central Market in Tel Aviv, and perhaps the best known in the city area.
Dating back to 1920, this market is one of the trendiest places around. Like Machane Yehuda market, here you can also find guided tours as well as a thrilling mix of stands selling fruit, vegetables, meat, dairy, clothes, home decor and homeware. And alongside these stands you can always pop a visit to some of the established bars, restaurants, coffee shops and chef-owned food stalls, all wrapped in a vibrant atmosphere, amazing smells and delicious tastes.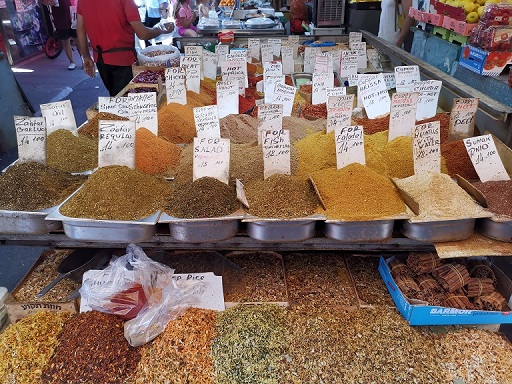 Its central location makes it a must see, as it is right next to Nahalat Binyamin – an outdoor pedestrian mall that houses artisans selling handcrafted jewelry, ceramics, sculpture and paintings every Tuesday to Friday from 10 am.
The Carmel Market is open every weekday except during the Sabbath and on holidays.
Sunday through Thursday, the market is open from 8:00 until the early hours of the night.
On Fridays, the market is open from 8:00 to approximately 15:00.
4. Jaffa Flea Market
If you love antiques, secondhand items and handmade artifacts, look no further.
The Flea Market is located in Jaffa, next to the picturesque Old City and ancient Clock Tower.
In the market you can find old radios, vinyl records, carpets and posters, as well as second hand furniture and clothes. Basically, it's like visiting in a time capsule!
And of course, you can find guided tours and many restaurants in the market.
The Jaffa Flea Market is open every weekday except during the Sabbath and on holidays.
Sunday to Thursday the market is open between 9:00-17:00.
Fridays the market is open between 9:00-14:00. Saturday closed.
5. Nazareth Market
This market is one of the most special markets in Israel. A symbol of coexistence located in the childhood home of baby Jesus, it just can't get any better than this.
Here you can find authentic Arab and Druze delicacies, including Baklava – dessert made of layers of filo pastry filled with chopped nuts and sweetened with syrup or honey; and Knafeh – a dessert made with shredded filo pastry or fine semolina dough, soaked in sweet, sugar-based syrup, and layered with cheese, clotted cream or nuts.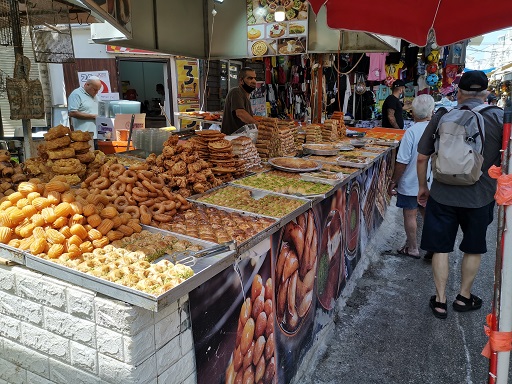 All this goodness is within walking distance from major Christian holy sites, like The Church of the Annunciation and The Synagogue Church.
You can find guided tours all year long in Nazareth, and at Christmas time you can't miss out on the fabulous Christmas Market, featuring the tallest Christmas tree in Israel (and in some years, in all of the Middle East!)
The Nazareth Market is open every weekday except Sundays and holidays.
Monday to Saturday the market is open between 9:00-16:00 (Most restaurants open from 10:00 and until late in the night).
Saturday is the busiest day.
Sunday the market is closed.
Summary
From the historic markets in Jerusalem, to the markets of historic items in Jaffa; from the trendy markets in Tel Aviv to the timeless market in Nazareth – visiting the markets in Israel is a deliciously absolute must!